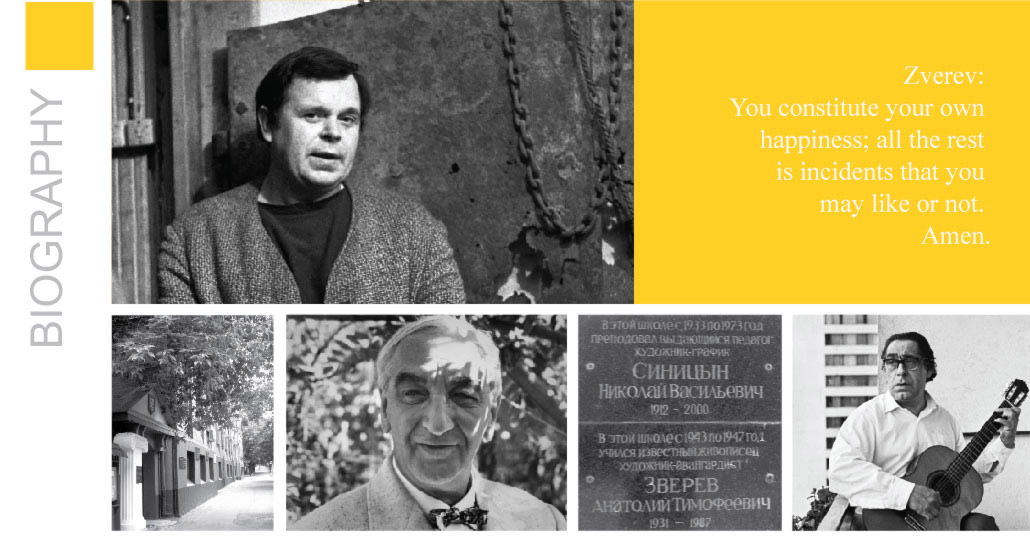 Anatoly Zverev.
School. Aleksandr Rumnev. Memorial tablet. George Costakis.
Lusya's portrait. Poster exhibition in Paris.
Anatoly Zverev was born on November 3, 1931, in Moscow. His art teacher in school was Nikolai Sinitsyn,
who had been, in turn, Ostroumova-Lebedeva's disciple. Zverev then studied at a vocational school.

Zverev: I left the arts school and, like a sailor, walked down the boulevard and the street with a shoe on my right foot and a felt boot on my left.
I headed for my apartment, where no one was waiting for me except the cat.

After getting a painter's diploma, Zverev found work in Sokolniki Park. When he was painting children's playgrounds there,
he was noticed by Alexander Rumnev. The latter was the first to discover Zverev's talent and became his mentor for many years to come.
In 1954, Zverev met the famous collector George Costakis. The latter became one of the most important figures in Zverev's life.
He realized that the young man was a brilliant graphic artist and painter.

During the Youth and Student Festival in Moscow in 1957, the Mexican artist Siqueiros gave Zverev the highest award.
Zverev got married and had two children. Nevertheless, his family life did not last long.
In 1965, the French conductor Igor Markevitch organized Zverev solo shows in Paris and Geneva.

Igor Markevitch: "Zverev is a 'phenomenon' – the phenomenon of a person who rediscovered the history of contemporary art."


In 1968, Anatoly Zverev met Oksana Aseyeva. In her youth, she had known Mayakovsky, Khlebnikov
и Пастернаком. В 1916 году Оксана Михайловна стала женой поэта Николая Асеева, в 1963 году она овдовела. Встреча Зверева
and Pasternak. In 1916, she married the poet Nikolai Aseyev, who died in 1963. Zverev and Aseyeva's meeting changed their lives. Oksana Aseyeva became Zverev's muse for many years to come.
In 1984, Zverev's only lifetime solo show in Russia took place at the Moscow City Committee of Graphic Artists.

Anatoly Zverev died on December 8, 1986.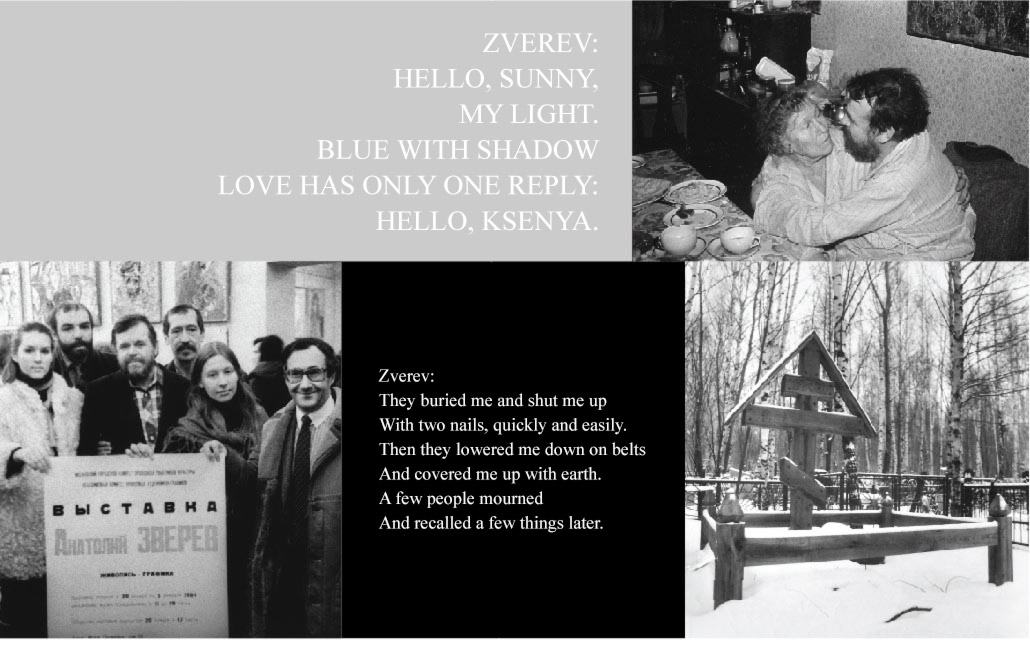 A. Zverev and O. Aseeva.
Poster of Anatoly Zverev's only lifetime solo show at the City Committee of Graphic Artists (curator: Vladimir Nemukhin).
Anatoly Zverev's tomb.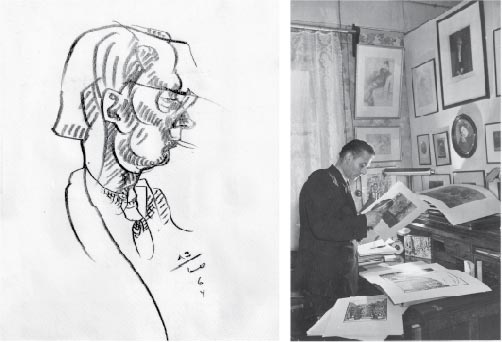 A.Zverev. Portrait of N. Sinitsyn.
Zverev's first teacher N. Sinitsyn.

Zverev's parents.
I was born in the year 1931 on November 3.
My father was a disabled veteran of the Russian Civil War, and my mother was a blue-collar worker.

I hardly knew my sisters – I can apparently recall only two (of those who died): Zina (the first) and Verochka.
Two sisters are apparently still alive today. One of them is four years older than me, and the other is younger by the same amount.
I became an artist by accident (or perhaps not?). I chose Leonardo da Vinci as my teacher. Reading his texts, I found a lot of things that appealed to me (of course, if we should believe what is written in the translated works of this genius). When I read the treatises of this man (whom I can now call my friend), I was struck by how similarly we express our thoughts.

Being misfortunate and hapless in society on the whole, I had the great joy of exchanging impressions on art when reading his Treatise on Painting time and again. Around this time, my education was based on what was closest and most appealing to me (and perhaps only to me) or, in other words, what I found easiest, for I was weak and sickly as a child. I had mixed success in school and got very different grades: A's in some subjects and F's in others. Nevertheless, I subsequently managed to finish seven years of school and get an incomplete secondary education, of which I was proud to myself – more perhaps than before my buddies and friends.

My childhood was mostly quite wild and mussy, and it is therefore quite difficult to say something meaningful about it…

I apparently had very few desires at all… As to the art of drawing, I can only say that I didn't dream of becoming an artist… Yet I often wanted and "dreamt" that my (second) cousin would draw me a horse every time he visited us before the war. A folk drawing hung on the wall in our room, and I often looked at it and apparently even attempted to "copy" it in a way – in other words, I tried to draw the same thing. Of course, I had color pencils at the time (if I remember correctly) and also seemingly checkers that I had always wanted to learn to play. Subsequently, these checkers became the binding force of my "hapless" existence.




A. Zverev and Leonardo.
Treatise.

Sokolniki.
A. Zverev plays checkers.




Quite often, I asked my father to draw me something, and he always willingly agreed, although he was not, in all likelihood, a good draftsman, despite his "lyrical" personality. Nevertheless, his desire to please me was so great that he managed to draw a picture that was the same each time: the profile of some mythical old man…
Nevertheless, I was apparently a good draftsman and subsequently began to draw more and more… My first drawing, at the age of four, was a portrait of Stalin.
Then, when I was in a pioneer camp, I can say without blushing (although only in hindsight) that I made a "masterpiece" of art to the amazement of the art teacher: Tea Rose or Hibiscus. And, when I was five (before the aforementioned event), I depicted "street traffic" from memory at a polling place where, at that time (before the war), children were still given paper and color pencils for drawing. Back then, relatively few people lived in Moscow, and it was not so vast in comparison to today. When people went to vote, they took their children along. People played accordions in the streets or sung and danced, as if it were a holiday.
As to my subsequent drawing career, World War II (or the Great Patriotic War, as it is also called) broke out, and people were evacuated in different directions… My father, mother, two sisters and I went to the Tambov Region (or Province).
I won't go into detail here how "well" or "badly" and how fast or slowly we were brought in the rail freight car to our destination; I'll only speak about what pertains to my drawing career… Naturally, I didn't draw and could hardly have drawn if I had wanted to: life was all vanity and "vanity of vanities", so to say.
My father told me a lot about things and in great detail: about where is wheat and where is rye; about the chaos where oats are; and so on and so forth. Subsequently, he caught a cold, got seriously frostbitten feet, fell sick and died soon after New Year's on the … of January at 5 a.m. His sad life had lasted for less than forty three years.
Naturally, it was all very sad…
Then I fell ill with "moon blindness" and later got lime and chalk in my eyes that fell from the ceiling of the hut by pure accident (the latter, was, apparently, another one of my recurring misfortunes…). I both liked and disliked the "village" (i.e., village life): some aspects were nice, others weren't.





As to the "beauty" of the native region of my, so to say, "parents", it was, of course, simply astonishing: meadows…, spring floods…, the spring rustling of the fields, melting snow flowing past with a lot of noise and thunder, roaring early in the morning like sea waves… And all the rest: summer…, winter with lots of snow… The snow reached the lines on telegraph poles. People could barely climb out of their front doors to clean the snow around the chimneys, doors and windows. All in all, this was very interesting, of course… In the summer, there was heat and scorching sunshine and terrible thunderstorms at times. The river and the brooks and lakes… And all the rest.
Time passed, and the war continued…
When we returned to Moscow after the end of the war, people still lived on food cards, rations, in deprivation, so to say, and so on… Yet is it worth recalling all the rations and food cards once again? Here, my drawing resumed on account of coincidences that led to such paradoxes as a "drawing" based on the newspaper Soviet Sport and depicting "tense moments before the goal of the Moscow Spartak Club". In my little drawing book appeared drawings with quill pen and India ink that I made in 1945-46 after such a long break during the war, i.e., after five years.
They were followed by drawing, painting, clay modeling, engraving on linoleum, and wood burning in the children's villages of two parks: Sokolniki and Izmailovo. Then in two pioneer clubs…
Then I resumed my studies (also by accident) and completed a vocational arts school (two years of study). I also briefly, so to say, attended some studios "for adults" on certain occasions and could have even "stayed" at an arts school on Sretenka Street (the school was dedicated to the "Year 1905", if I recall correctly).
However, I didn't stay there for long. I was dismissed already during my first year on account of my "external appearance": my poor financial status did not allow me to remain at the school.
Then I worked as an artist in Sokolniki Park (after graduating from the vocational arts school), mostly as a painter. In principle, "all the rest" is redundant and of little interest… I was unlucky in everything I did. Nevertheless, drawing and painting have remained my constant activities almost to this very day…
I treat contemporary artists that I know with respect, or so I would say, for their kindness towards one another… However, the current state of things makes it impossible to consider them all happy, even though "bystanders" (for some reason) sometimes think that the very title of "artist" is sufficient in itself to make a person happy. Personally, I'm still unable to call myself "happy", especially when I run up against the rudeness of my own fate: against "bad luck" in different things or especially when something hurts in bad weather. I believe that, generally speaking, one should treat artists with respect on the condition that they aren't too greedy, envious, sly, evil, and so on, in some things. The others are bad where I don't like them personally in some way and so on…





The most interesting painters are naturally those that attract viewers the best without fatiguing them with "unnecessary" contrivances, whether in technique or in content: Van Gogh, Rembrandt, Rubens, my teacher Leonardo da Vinci, Velazquez, Goya, Van Dyck, Raphael, Savrasov, Vrubel, Rublev, Vasilyev, Ge, Kiprensky, Ivanov, Malevich, Kandinsky, Botticelli, Daubigny, Serov, Bryullov, Gauguin, Constable, and many others whose names I don't know or can't recall…
As to my artist "colleagues", the best of my contemporaries (of the so-called "avant-gardists") are all the living artists, because all of them have a future, a present or, at least, a "past", etc., etc.
I wish all artists "bon voyage" and a favorable wind in their art. "Sail, o boat, on the waves.
I wish them health, if that's possible.
Amen.
RUSSIA


Moscow

1957
III Moscow Youth Exhibition

1958.
Exhibit at George Costakis' apartment

1975
Exhibit of paintings at the Apiculture Pavilion, VDNKh
Exhibit of works by Moscow artists, VDNKh Cultural Center



VDNKh Cultural Center.
Poster of Zverev's only exhibition in the USSR.
VDNKh Apiculture Pavilion. The City Committee of Graphic Artists

1984
Anatoly Zverev's only lifetime solo show at
the City Committee of Graphic Artists (curator: Vladimir Nemukhin)

1989
Exhibit Hall of the Soviet Cultural Foundation

1998
Zverev: Paintings and Drawings from Private Collections,
Gallery Kino and Moscow Auction House

1999
Zverev: Paintings and Drawings from the State Tretyakov Gallery and Private Collections,
The State Tretyakov Gallery and Gallery KINO

2005
Genius of Graphic Art, Gallery KINO

2006
Stenography. A. Zverev at a Concert of M. Marceau, Gallery KINO

2009
Sit Down, Kid, I'll Immortalize You, Polina Lobachevskaya Gallery and Chekhov House Exhibition Hall

2012
160 Works by Anatoly Zverev, Literary Museum
Zverev in Flames, Polina Lobachevskaya Gallery and New Manege

2014
On the Threshold of a New Museum, AZ Museum and New Manege

Leningrad / Saint Petersburg
1991
Other Art, Russian Museum

Tver
1993
Tver Cultural Foundation

Saratov
2011
Anatoly Zverev: Painting and Graphic Art,
Radishchev Saratov State Art Museum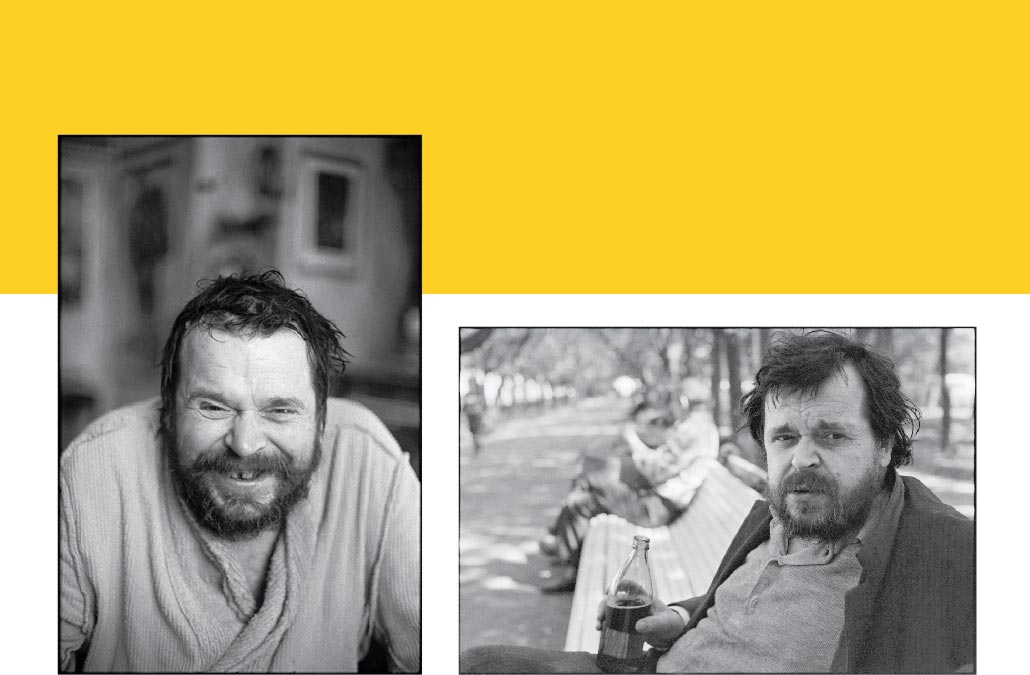 FOREIGN EXHIBITIONS
1965
Paris (France)
Galerie Motte
Geneva (Switzerland)
Galerie Motte
San Francisco (USA)
Exhibit of Soviet Art from the Fielding Collection
1967
New York (USA)
500 Years of Russian Painting, New Art Gallery
Sangrestie (France)
Galerie ABC
1957-1970
Grenoble (France)
City Museum, 8 Artists from Moscow, Museum of Painting and Sculpture
1970
Lugano (Switzerland)
New Moscow Art, Museum of Fine Arts
1971
Copenhagen (Denmark)
10 Artists from Moscow
1974
Bochum (Germany)
Progressive Trends in Moscow
1975
Vienna (Austria)
Russian February 1975 in Vienna, Kunsthaus
Braunschweig, Freiburg, West Berlin (Germany)
Russian Non-Conformist Artists
1976
Paris (France)
Contemporary Russian Art, Palais des Congrès
Saint Louis (USA)
New Art from the Soviet Union
1977
London (England)
Unofficial Art from the Soviet Union
Venice (Italy)
New Soviet Art, Biennale-77
Washington, D.C. (USA)
New Art from the Soviet Union, Art Club
1978
Turin (Italy)
New Soviet Art, Biennale
Laval (France)
Russian Unofficial Art, Old Castle Museum
1979
Vésinet (France)
Galerie d'art
1981
Jersey City (USA)
25 Years of Soviet Unofficial Art,
Museum of Russian Art
1983
Washington, D.C. (USA)
Unofficial Art from the Soviet Union
1985
London (England)
Miro and Spizman Gallery
1986
New York (USA)
Kouros Gallery
1990-1991
Carouge (Switzerland)
Galerie des Platanes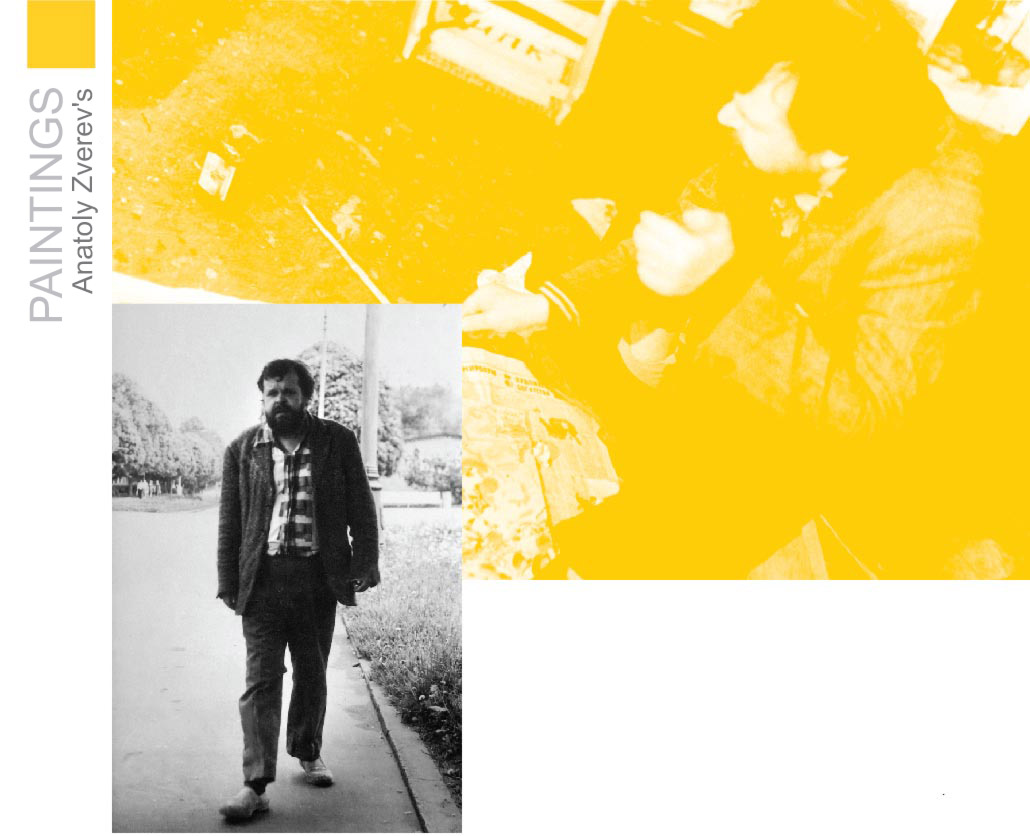 ANATOLY ZVEREV'S WORKS ARE FOUND
IN THE FOLLOWING COLLECTIONS:
• The State Tretyakov Gallery, Moscow
• Moscow Museum of Modern Art, Moscow
• ART4.RU Contemporary Art Museum, Moscow
• The State Historical Museum, Moscow
• New Museum, Saint Petersburg
• Jane Voorhees Zimmerli Art Museum, Norton and Nancy Dodge
Collection, Rutgers University, New Brunswick Campus, New Jersey, USA
• Museum of Modern Art, New York, USA
• Private collections in Russia and abroad